It was a hard working Wednesday at the Pistons Academy Camp in Novi where the 160 campers continued to write their stories.  "We saw some amazing things today," said Red Division Coach Jillian Gomes, "It was fun to watch so many kids work as hard as they did. They have definitely gotten better!"
RED / WHITE CAMP:
There was some clear separation in the 6th grade house today as many of the girls in camp began to show everyone just how dedicated they are to the game of basketball.  "When we did the (conditioning) BLITZ, I saw so many girls working hard and giving it everything," said Coach Beth Mac, "Girls like Georgia Hopkins and Abby Parrinello really pushed it hard.  They were out of breath when it was over.  Very Cool!"
Said Abby, a 5th grader from Northville, "I think I have improved my passing a lot. But my favorite part of camp is the free throw contest.  I have been shooting well and it has been coming easy to me."  Abby is currently in the top 10 shooters at camp.
In the Free-Throw contest, McKenley Reid found her rhythm from the stripe and elevated her score into the top 10 shooters at camp as well.  "She has such a pretty shot," added coach Max Wittenberg, "She seems really focused, too!"
In the all-girls spotlight game, McKenley continued her fine play as she powered her way through taller and older opponents to score the game winning basket with just 22 seconds left.  "It was a great shot," said her Coach (Jillian), "She did a little up and under move after a rebound, found the angle and scored off the glass.  It was awesome!"
McKenley got help on defense as Peyton Seveier and Christie Huprich combined for 11 steals in the game.  It was a tough loss for the blue team who also had inspired play from Molly McGuire and Summer Whitmire.  "All the girls were amazing," said referee Max Wittenberg, "The played much better defense than I thought they would.  I clearly thought wrong."
Here are the latest stats and standings:
REMINDER THAT RED/WHITE DIVISION PLAYERS WILL BE PICKED UP AT THE 5TH GRADE HOUSE ON THURSDAY!
BLUE + PLATINUM CAMP:
Free Throw Scores:  NOVI-BLUE-FTs
4-Ball Standings: NOVI-BLUE-FTs
THE REALLY IMPOSSIBLE QUESTION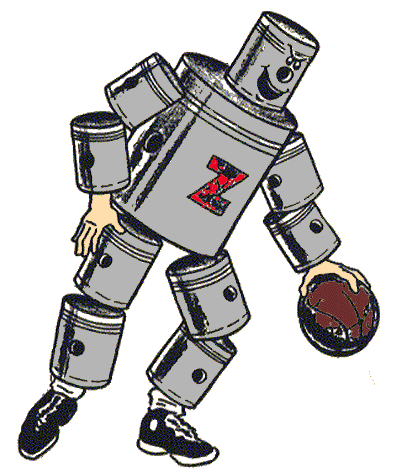 Name the NBA team that used to use the image at left as their primary logo.  If you know the answer, write it down on a 3×5 piece of paper and turn it in at check-in tomorrow.
Correct answers will be placed into a drawing for some cool Pistons Prizes.  Don't forget to put your name on it!